The Judo Hall (in Japanese juudouba lit. Judo Hall) is where the Ousai Private Academy Judo Club members carry out their club activities. The related Judo Club Room is attached to it. Members of the Student Council are frequent visitors, as is Kotomi Tsuda, Vice-President Takatoshi's younger sister. Ranko Hata of the Newspaper Club is visits often, hoping to take pictures of the club members' practice.
The Judo Hall is connected to the Judo Club Room and is nearby both the Ousai School Hall as well as the sports grounds.
Equipment
Edit
As expected of a martial arts dojo, the Judo Hall has padded mats to practice falling, with additional ones available as needed. There is also a whiteboard used to display information, and as is normal with a martial arts dojo there is a sign on the wall declaring the dojo's aim.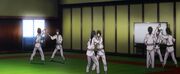 Notable People
Edit
Mutsumi Mitsuba: Judo Club Captain (Second year, founder)
Chiri Nakazato: Judo Club Vice-Captain (Second year, founder)
Nanako Umibe: club member (Second year, founder)
Toki: club member (First year, joined after being defeated by Mutsumi)

Daimon-sensei: Judo Club advisor and coach
Two other founding (but unnamed) members (Second years)
Frequent visitors
Edit
According to Ranko, the Judo Hall is haunted by something called 'the Black Thing' (kuroimono in Japanese) and is the reason why there was no Judo Club until Mutsumi formed it.